Playing house
Director: Cenk Köksal and Özgül Gürbüz. Turkey. Production Budget: 5,000 USD
Animated Short (budget under $5k USD)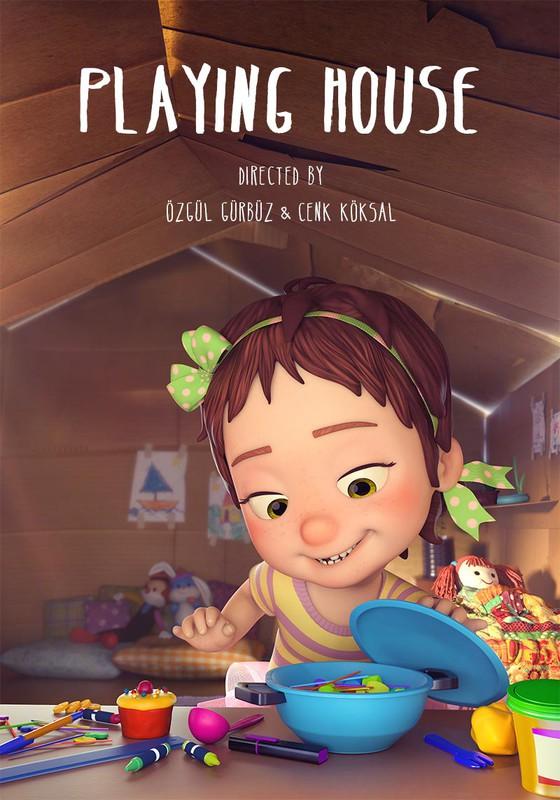 A little girl is playing house by herself. She makes food out of toys and sets the table. Then a little boy comes in, and she greets him with joy. But things are getting darker while they pretending…
Director Biography
Cenk Köksal
Born in Istanbul, 1981. Graduated from Anadolu University Fine Art Faculty Animation Department in 2004.
First short film was «Talented Mr. Koksal» as graduation project in 2004.
Worked as storyboard artist, cel animator and clean-up artist in cartoon projects.
Later became 3d animator and animation director for Tv commercials.
Living and working in Istanbul since 2005.
Director Statement
When I first pitched the idea of Playing House to co-director Özgül Gürbüz, she immediately got the idea and shared the needs to spread this message all around the world with me. We live in Turkey where domestic violence is one of the major problems among the society. But we are also sure that it's one of the biggest issues for other so called modern societies too, even if it's hidden behind the curtains.
So, we rolled up our sleeves and got back to work to make it as visible and effective as we can.
Navigating the story through the eyes of children felt like a delicate but necessary choice for us. In that way, we think maybe we can penetrate the hypocrisy of people experience domestic violence or harm others, especially children who are the most innocent victims of our unbalanced, unpredictable nature.
We chose animation as a medium, firstly because it's our main profession and a tool we're good at, second, it's the best choice for selling it as a cute, happy and cartoon-looking story in the beginning, and then creating a deep contrast by shifting the atmosphere with the same tool.
We're hoping that it will reach as many minds as it can, and help spark a light in those minds to consider it differently. We are trying to break the habit of violence, by showing them the circle of violence.
-Cenk Köksal, Co-Director of Playing House-
submit your film to
almaty indie film fest