Never Land
Director: Anna Hoghton. United Kingdom. Production Budget: 5,000 GBP
Female Director Low Budget Short film (budget under $5k USD)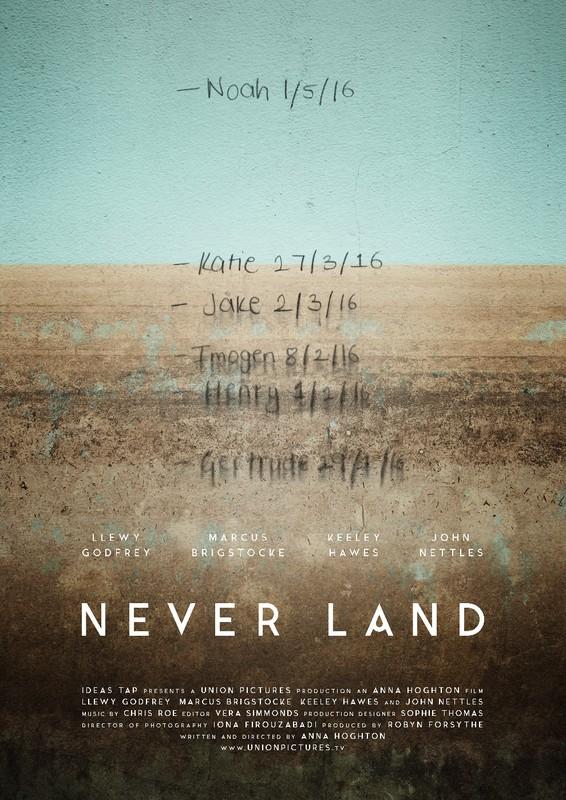 «Mrs Applebee says the sea is rising…
One day it will rise so high that it swallows everything up…
And the strange thing is that no one seems to care.»
After mishearing a pair of fishermen (John Nettles and Brian Bovell) talking about the superior flood barriers in The Netherlands, Noah devises an escape plan to 'Never Land'. The only person who takes an interest in his plan is Katie (Emmy Marriott), Noah's wild-hearted next-door neighbour. Noah's parents (Marcus Brigstocke and Keeley Hawes) think his compulsion to turn off taps is foolish, but even they can't deny the growing storms that are threatening their little fishing village.
Director Biography
Anna Hoghton is a writer/director. She has an MA in Writing for Young People from Bath Spa University and is a published poet who was shortlisted for the Lancelot Andrewes Award by Carol Ann Duffy and commissioned to perform at Bristol Festival of Ideas. She writes for Tremolo theatre company, whose debut show was selected for the Underbelly at Edinburgh. Her most recent short film 'Never Land', won the Ideastap Film Fund and was made in partnership with Cape Farewell, starring Marcus Brigstocke, Keeley Hawes, Brian Bovell and John Nettles. In 2015, Anna was nominated for Rife Magazine's list of 'Influential Bristolians under the age of 24'. She spent two years on BAFTA's Youth Board and now works as a Visual Storyteller for Pixillion.
Anna is the writer/director for UNION PICTURES' short film 'Never Land', and feature 'Eden'.
Director Statement
'Never Land' is about one little boy's fear of water, but it is also a response to the dramatic winter floods which are increasingly becoming part of British life, and life all over the world.
In recent years England has glimpsed something of the radical climate change in store for future generations. Whole houses have drowned underwater on our doorsteps. This isn't a disaster happening elsewhere, but something hitting home. The flooding images on our TV screens during winter, could come from apocalyptic blockbusters but they're from rural Britain. The scale of what's been happening has forced us to recognise that climate change is an impending reality for everyone, and unless we do something things will only get worse.
But in 2016 there is still hope. We can still choose to damn or save the planet. Now is the time to reduce our carbon emissions and this film is part of inspiring that movement. Through the eyes of Noah, Never Land aims to provide a fresh perspective on climate change and emotionally engage audiences to act. We all have the choice to acknowledge the enormity of the danger threatening us, as Noah does, or we can ignore it, like his parents, and be washed away.
submit your film to
almaty indie film fest