A Woman With Brain
Director: Mauro Nigro. Italy. Production Budget: under $3k USD
No-Budget Short Film (budget under $3k USD)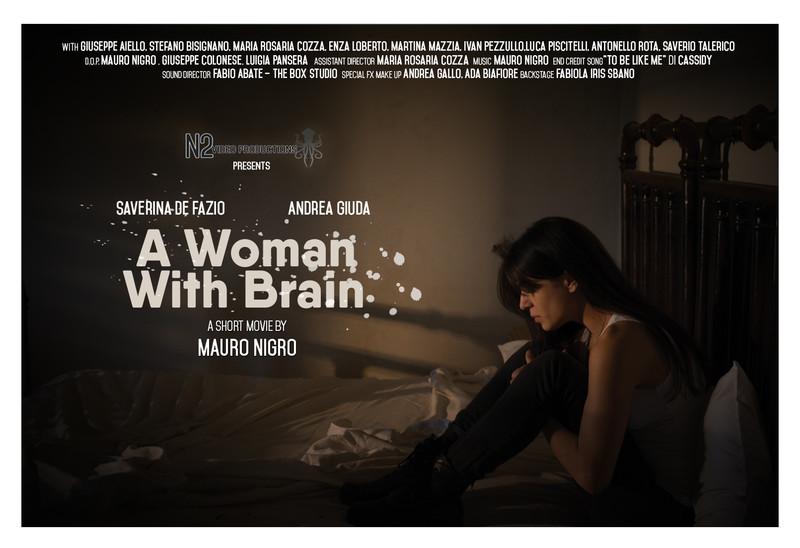 A tormented woman. at the end of her rope. persecuted . an hard choice. almost impossible. surrender is not an option.
Director Biography
Mauro Nigro is a videomaker. It did everything about the flow of video production. He directed short films, commercials (for the football team Nuova Cosenza Calcio, and 3D commercial for CIPOMO and SIPO medical associations), music videoclip (for Etnosound, ("Vorria mu moru" videoclip won in 2012 the first editioncon Of Premio Manente), Kutso, Moseek,(allmyfriendzare)dead,Coffea Strange (Staying with my giants" has been best music video on march 2016 on thecut.fm and selected to airplay by UK "Latest TV"), Yosonu, Akusma("e vota e gira Escamontage prize at 2016 roma videoclip festival). Worked for local televisions (Cam Tele 3, Videocalabria) directing, shooting, editing and creating artworks for many programs. Did many interview for web programs (Daniele Vicari, Urban Sounds) , some backstages (Battle on Ice/MissFraulein, La Moglie Del Sarto)and some documentary films(Cameroun Faces, "Ponti Pialesi" prize winning at Immagini a Confronto 2016 festival , Urban superstar, finalist at BELLARIA FILM FESTIVAL 2014). He also worked in a second shooting unit for a movie(La Moglie Del Sarto). He worked as filmaker for some reportage that has been on air on the third channel of Italian National television RAI (shooting, editing, sound, photography of ACQUARAGGIA and IL CORAGGIO DI GIACOMOon air in the program Crash, impatto convivenza). He wrote plays, screenplyas, music and text of many of the project he worked on.
www.mauronigro.it
Filmography
Seeking for my ghost(metafora) 2012
Interferenze(feng du tales VI) 2013 — sixth episode of FENG DU TALES web series, finalist at festival LAWeb Festival 2014, Le Quattro Giornate del Cinema di Napoli 2013, IMmaginario Web Fest Perugia 2013, Procida Film Festival 2013, Campiflegrei Web Fest 2013.
Hooded 2014 – Selected for per TUZLA FILM FEST 2014,PUERTO RICO HORROR FILM FEST 2014, rassegna No te Cortes y Muestra tu Corto, AMARCORT 2014,TRACCE CINEMATOGRAFICHE FILM FEST 2015, RIVER FILM FESTIVAL 2015, CORTO DI SERA 2015.
a woman with brain 2016 — shown at assaggi di cinema 2016, lamezia film fest 2017, rgu film festival — aberdeen (scotland),
winner best horror short at FI.PI.LI. HORROR FEST 2017 ,
corto di sera 2017, escamontage film festival 2017, am egypt film festival 2017, macabro film festival 2017
Director Statement
I want to show another side of the story
submit your film to
almaty indie film fest