Terra by Julia Kushnarenko
Director: Julia Kushnarenko

Country of origin: Russian Federation

Country of Filming: Russian Federation

Film Language: Russian

Category: Female Director Low Budget Short film (budget over $5k USD)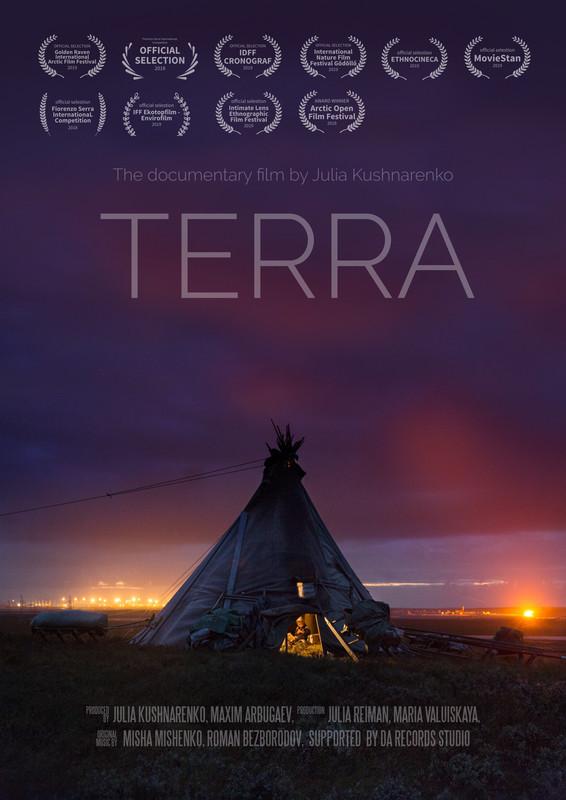 In 2012 the production at the Bovanenkovo gas field on the Yamal Peninsula, a remote section of Siberia, had begun. The industrial zone had been located right on the historical migration route of the indigenous reindeer herders- Nenets. Now they wade through the industrial zone to get the summer pastures.
Director Biography — Julia Kushnarenko
Julia Kushnarenko was born in Moscow and studied directing at the Gerasimov Institute of Cinematography. She has completed courses at Moscow's Scream School in visual effects compositing. She works not only as a documentary director, but also as a cinematographer and an editor. Julia is fascinated by exploring characters in all their contradictions. In 2017 Julia with Veronika Sher founded International Dance Short Film Festival BODYSCOPE.
Director Statement
In summer of 2016 I accidentally ended up on the Yamal Peninsula. I went there as an assistant photographer and videographer. Initially, we had to stay there for only two weeks, but eventually plans of our expedition changed, and we roamed with the Nenets for two months.
For us the biggest challenge was to become a part of this small community. During the year, many journalists and photographers come to reindeer herders to capture their lives. But most of the observations show reindeer herders as savages. This attitude offends Nenets, so they are becoming increasingly closed in dealing with strangers. It was important for me to immerse myself in their life and culture, to look at their way of life from within and feeling this passion of constant roaming. We tried to be on an equal footing with the Nenets helping them on household matters in order to avoid the guest's role in their eyes, for which they need to take care all the time.
During a long observation of Nenets life, it became clear to me that Nenets's internal conflict against the modern civilization is quite the burning issue. Nenets try to protect their culture and their way of life, but on the other hand they are not ready to detach themselves from the outside world. They want to go into it. Nenets have been trapped, not only between the two periods, but between two philosophies that tear their small community from the inside. And this happens not only with the Nenets culture, most of the native people worldwide are facing this issue too. Almost all the northern nomadic people are faced with a choice to be assimilated and move to settled life in cities or continue traditions of their nomadic ancestors. Such a resettlement of reindeer herders to settlements has already occurred.
submit your film to
almaty indie film fest