Hostel by Daniel Popat
Director: Daniel Popat. Production Budget: 300 USD. Country of origin: Germany. Country of Filming: Russian Federation
No-Budget Short Film (budget under $3k USD)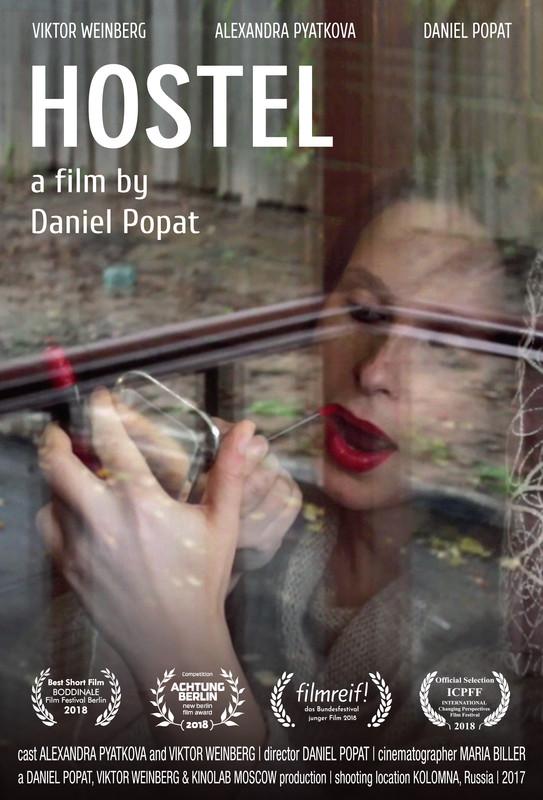 Strangers in Berlin. Two young people meet in an overbooked hostel somewhere in Berlin where they have to share a tiny room together. It turns out that they are not only from the same country but even from the same little town.
Director Biography — Daniel Popat
Daniel Popat (*1990 Munich, Germany) is a young german filmmaker. He grew up in Munich and Berlin where he made his first steps on the stage. Right after school Daniel began his film career as the main character of the famous german TV series «Rote Rosen». After different other roles in german film productions and acting studies in Linz and London Daniel more and more began to see himself behind the camera. His first film directing experience was assisting the famous german director Rosa von Praunheim (2015). Several own short films followed. Finally Daniel was accepted by the prestigous german Film Academy Ludwigsburg where he 2017 began his film directing studies.
Director Statement
Ende 2017 kamen im russischen Kolomna vier junge Menschen zusammen, zwischen denen die kreative Chemie einfach stimmte. Gemeinsam mit den Schauspielern Alexandra Pyatkova und Viktor Weinberg entstand auf Grundlage meines Plots, den die beiden wunderbar mit Details und Leben füllten, aber auch mit einer ordentlichen Portion schöpferischer Reibung zwischen uns drei, innerhalb kürzester Zeit dieses Stück Film. Die talentierte junge Kamerafrau Maria Biller verhalf dem Ganzen auf engstem Raum mit unkonventionellen, vielschichtigen Bildern zu einer zusätzlichen Portion Authentizität und Spannung. Am Ende gelang uns vier diese kleine aber feine filmische Studie über die Physik der zwischenmenschlichen Beziehungen, die für uns alle — und meiner Meinung auch für das Publikum — ein Glücksfall ist.
submit your film to
almaty indie film fest