Two late
Director: Ivan Kuzmin. France. Production Budget: 2,000 EUR
Micro-budget Short Film (budget under $5k USD)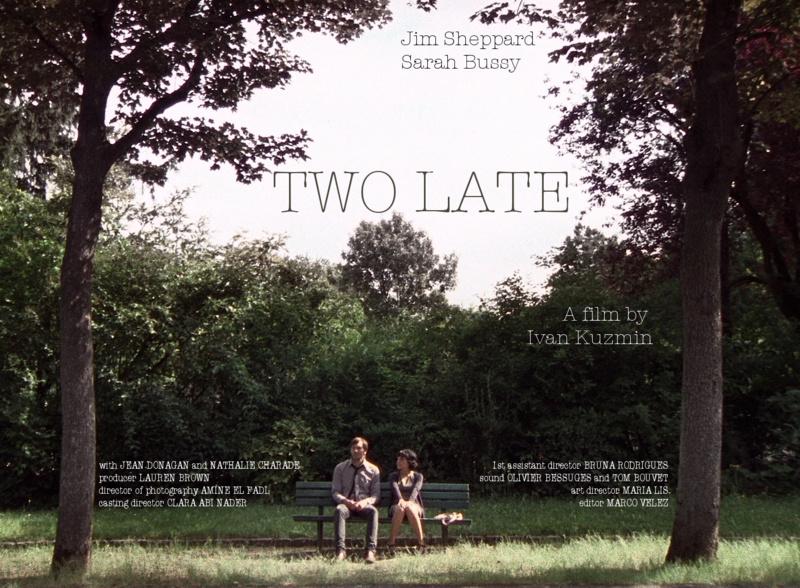 He's from England, and she's from France. They've recently moved to Paris. She'd like him to learn some French, but he wouldn't.
On top of that, they're late for a funeral. Hopefully, not too late…
Director Biography
Ivan comes from a television background – for 5 years he had been writing scripts for entertainment shows on major Russian TV channels. Seeking to build on his passion – movies and TV shows, he enters EICAR film school in Paris where he learns a lot about filmmaking and directs his first short movie – «Two Late». Having graduated as an editing and cinematography major, he stayed in France and is currently editing documentaries in a local production company, as well as pursuing personal projects.
Director Statement
Frankly speaking, this story (« Two Late ») wasn't even my first choice. Moreover, its idea only came to me after I started to study in EICAR. I arrived here with a bunch of other stories to tell, but it was the latest one that made me give up on all the others. The principal reason, I guess, is in the fact that it's a very personal story – I can really tell about something that's bothering me without having to invent much.
The idea of it came to my mind soon after I came to Paris and settled in with my girlfriend. I decided to take our story as a basis for my script, adding though a lot more drama and fantasy, as well as changing the origin of one of the characters, to reinforce the differences between them. I've always wanted to pair an infantile, dreamy and self-centered, yet kind and talented male character with a strong and loyal, down-to-eath kind of a woman – and see how their relationship will develop. She stays with him because of her devotion and the belief in his talent. He stays with her because he needs her, being completely childish in all real-life matters, but is quite unsure of his love or whatever it is – maybe he has never actually experienced it and is not even capable of loving. Will he be able to become a man she wants him to be, given the circumstances?
I didn't intend to create any conspicuously good or evil characters, as well as an obvious conflict between them. What I wanted to do is to make it as subtle as possible, showing the way how people communicate in real life – without giving away directly what they think and feel. And to show people who love each other, each one in his peculiar manner, trying to bypass the obstacles that stand in their way. Is also very interesting for me to develop a theme of death – and the consequences of it for someone who dies.
Two Late is a drama by its genre, although the male character, Andrew, often tries to joke, mostly will little success, creating a bittersweet mood. But at the same way the film can't be called moody and grim – I see it for something bright and heart-warming, hopeful after all.
The movie is shot on three locations. It starts in a typical parisian apartment, showing the small world the characters live in. In the middle it moves to a parisian street, on the way to the cemetery – it symbolises the big world surrounding the characters and the opportunities that are open to them. Finally, the last location is the cemetery, which completely changes all the previous plans and intentions the heroes had. And at the same time, strangely enough, giving them a new hope, a new chance to reconcile and a new kind of life.
As for the format, before entering school I strictly tended to the digital side – since it's less troublesome. I never could call myself a very technical person and would always prefer the medium which gives me an easier and more accessible way to tell stories – since the story is key after all. But I ended up shooting on Super 16 — it was very tempting just to be able to tell my kids I shot on film! Besides, apart from it's certain limitations, I found out that film is absolutely marvellous in the way it looks and the way it makes you think and prepare and plan ahead.
The biggest challenge in this project for me was the directing itself, as I had never done this before, although I grew an unexpected interest in directing during. Managing the crew, making hard choices, giving the right and clear directions to the actors, finding good locations and dealing with financial issues – it was sure something that I'm going to remember for the rest of my life!
submit your film to
almaty indie film fest