FINAL MOMENTS by Dax Phelan
Director: Dax Phelan

Country of origin: United States

Country of Filming: United States

Film Language: English

Category: Best Commercial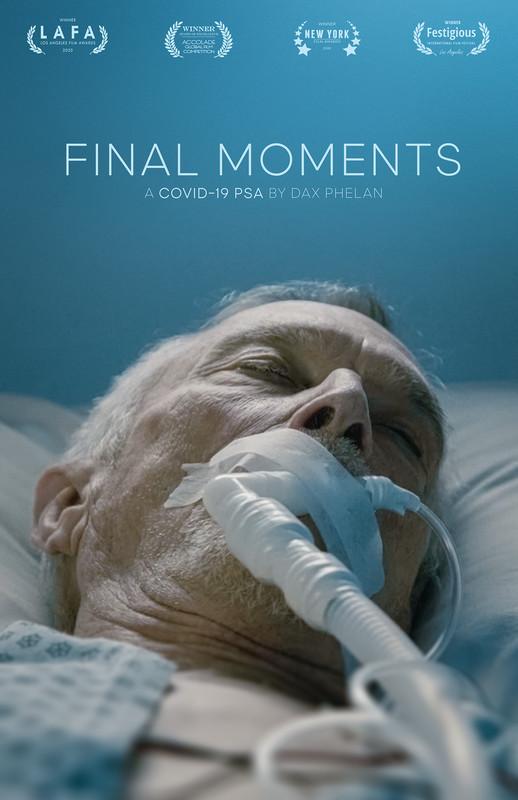 «Final Moments» is a 30-second Public Service Announcement about the importance of wearing masks in the ongoing fight against COVID-19.
Director Biography — Dax Phelan
After earning an MFA in Screenwriting from the American Film Institute, Dax Phelan served as the Creative Executive for producer Mace Neufeld ("The Hunt for Red October") at Sony Pictures where he worked on numerous films, including blockbusters such as "The General's Daughter," "The Sum of All Fears," and "The Equalizer."
After selling a screenplay of his own, Phelan left Sony to write full-time. He co-created the TV series, "At Your Service," for producer David Engel ("Straight Outta Compton") and CBS/Paramount and adapted the New York Times bestseller, "In the Sanctuary of Outcasts," for producer Stratton Leopold ("Mission: Impossible III").
Phelan served as Associate Producer on Paul Schrader's "The Canyons" starring Lindsay Lohan and Executive Producer on Anja Marquardt's "She's Lost Control," which was nominated for two Independent Spirit Awards.
In 2015, Phelan wrote, produced, and directed his feature directorial debut, "Jasmine." Shot in Hong Kong, the film played in 75 film festivals worldwide and won nearly 100 awards, including 18 for Best Picture, 10 for Best Director, and 5 for Best Screenplay. The film was acquired by Lionsgate and released theatrically on June 16, 2017.
On August 16, 2018, Phelan was included in the LA Film Awards' list of "Thirty Filmmakers to Watch," a celebration of the "inspiring, creative, and incredibly talented directors who are making indie filmmaking great right now."
Following "Jasmine," Phelan co-produced Orson Welles's final film, "The Other Side of the Wind," with Frank Marshall ("Jurassic World"). The film had its world premiere at the 75th Venice Film Festival where it opened to strong reviews and was released theatrically by Netflix on November 2, 2018. The National Board of Review honored the film with the prestigious and rarely given William K. Everson Film History Award.
In 2019, Phelan executive produced "Flowers of the Field" with Lodge Kerrigan ("The Girlfriend Experience") and "About Him & Her: The Inarticulate Speech of the Heart," both of which will world premiere in 2020.
Phelan is currently preparing to return to his hometown of St. Louis, Missouri to direct his sophomore feature film, "Kirkwood," in fall 2020. Phelan conceived the story with his father, a former City of St. Louis policeman.
Phelan is a proud member of the Producers Guild of America and repped by Danny Passman at Gang, Tyre, Ramer, & Brown.
submit your film to
almaty indie film fest